Visiting from the northern hemisphere and in need of some sun? Looking to escape city life? These are the best beaches in Peru for that paradisaical bliss.
The 2,414 km-long coastline of Peru has several unique beach spots to ride some waves, work on that tan and fill up on delicious seafood. Slather yourself up with sunscreen, fill up your reusable water bottle and put on your sun hat: these are the best beaches in Peru.
Southern beaches
Heading south? Beaches in southern Peru receive far less tourists than those in the north, which can be exactly what you want for a relaxing getaway. Along this coastal area you'll find plenty of unique beaches that deter far from the typical postcard images of white sand.
1. Puerto Inca: Cool waters, red valleys
If you are planning to travel to southern Peru take a few days to stop at the beautiful and calm beach of Puerto Inca. As its name suggests, this quiet beach town was once an important port for the Inca empire. About 3 hours south of Nazca, this beach can be visited before or after witnessing the Nazca Lines or on the way to Arequipa or Puno. After relaxing on the beach for a few hours, take a 15-minute walk from Hotel Puerto Inka (it'll stick out like a sore thumb) to an incredible lookout point of red valleys and clear water.
You can also rent kayaks and paddle boards from the hotel. But Puerto Inca is not only about enjoying the coast. This unique beach is also home to the ruins of the principal port of the Inca Empire, which gives you the possibility to have a little historical experience as well, far from the big crowds of tourists.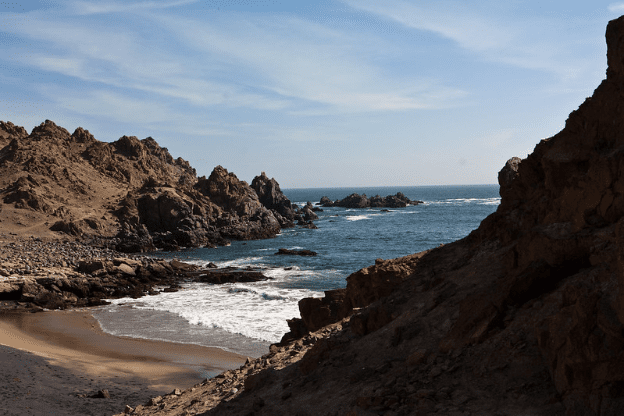 2. Playa de la Mina: A desert oasis
Playa de la Mina, located in the National Reserve of Paracas, is ideal for a swim on a hot summer day in the desert. Bordered by stratified rock, this incredibly beautiful beach offers powdery hot sand and sparkling turquoise-green waters. Clearly it's a popular destination during the weekend. You're best bet is to visit on a weekday or during the low tourism months. Try to reach the beach before late afternoon as it is located between cliffs. With the sun's disappearance the waters quickly turn cold.
3. Playa Roja: Mesmerizing red sand
Playa Roja, also located in the National Reserve of Paracas, takes its name from the amazing color of the sand. The volcanic activity in the area is the reason why the sand has been painted a vivid red, a striking contrast next to the blue sea. Visitors passing between Punta Santa María and Playa Lagunillas will be amazed by this unique beach, full of birds and wildlife that find sanctuary in the national reserve. If you're planning on seeing all the area has to offer it is recommended to hire a guide. Otherwise, simply relax on the red beach, enjoy the incredible view and the amazing wildlife. If lucky, you may even witness dolphins or whales passing by!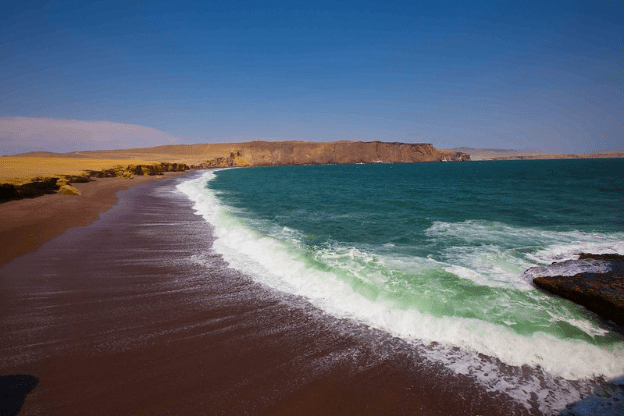 Beaches around Lima
Staying in Lima for a few days and want to enjoy a relaxing beach day? Even the capital of the country has a lot to offer in beach material! Here are just two of the many beaches surrounding Lima, but on this video, you have a list of 10 unknown beaches around the capital!
4. Punta Hermosa: Big wave potential
Located 42 km south of downtown Lima, this popular beach is easily accessible by the Pan-American Highway. Using your own car or public transportation, it also makes for a great day trip option from Peru's capital city. Punta Hermosa is popular among surfers for its big waves, but it is also appreciated by those who simply want to lay out on the beach and possibly take a dip in calm water. Arrive early in the morning to claim your spot!
The beach is full of local restaurants that offer delicious fresh seafood and outdoor seating from where you can sit and enjoy a cold drink during a hot summer day. Though if you plan on only spending a few hours and have space in the car, load up a cooler.
5. Pucusana: Fishing village to get hooked on
Offering an authentic experience in a small Peruvian village, Pucusana is the place to go for a quiet beach escape. Located just a couple of hours south of Lima and easily accessible by car or bus, this little fishing town is known for offering the experience of a typical Peruvian village and has a lot to offer.
Join a fisherman on his boat to catch a glimpse of the local sea lions then head back to shore to devour an excellent ceviche made from freshly caught fish. Afterwards, visit the Devil's Mouth (El Boquerón del Diablo), a solid rock that over time has become a giant gaping mouth. If you're feeling a little energetic, hike up the hill to reach El Mirador, where you can enjoy an incredible panoramic view of the town and the ocean.
Northern beaches
The soft sand and warmer temps make theses northern destinations some of the best beaches in Peru. Whether you just want to relax in a luxurious and comfortable hotel to enjoy the paradisaical beach or you want to find the best surfing spots, you'll find your happiness in one of the many beaches along the north coast of Peru.
6. Huanchaco: Waves and ancient ruins
This beautiful beach, located 20 minutes by bus or car from the center of Trujillo, gives off a charming bohemian vibe. Even if the beach is quite rocky in parts, it is also recommended if you just want to spend a day tanning on the beach and swimming in wavy waters. Nearby various historical sites, travelers often stop by Huanchaco when they're ready to take a relaxing break from their cultural trip.
This beach also has a good reputation for the many water sports it offers and is known for the traditional style of fishing used by local fishermen: the caballitos de totora. Meaning "little reed horses," these small woven boats that have been used since before the Spanish arrive, though they coast over the waves much like a modern surfboard. Nowadays, surfboards outnumber these reed horses, but you'll still see a few in action—for fishing purposes and for entertaining tourists.
7. Lobitos: Top surf spot in Peru
This beach is located in one of the six districts of the province of Talara in Peru, 70 km south from Mancora. If you are an amateur or pro-level surfer, this beach is a destination you need to get to. Due to a confluence of currents, this beach offers incredible waves that have earned it the reputation of Peru's best surf spot. For those looking to learn how to surf, it's easy to find surf schools dotted around the area.
Unlike Mancora, which is known for its party scene, Lobitos is a family friendly town and relatively calm.
Strangely enough, a British Oil Company once owned this town. The relics of the oil industry can still be found, which adds a twist to this unique seaside town.
8. Cabo Blanco: Hemingway's inspiration
Have you ever read Ernest Hemingway's novel, "The Old Man and the Sea"? If you want to see for yourself what inspired the creation of the world renowned novel, you need to visit the beach of Cabo Blanco, the little fishing village in the north of Peru.
Situated 34 km south of Mancora, in the region of Piura, this area was especially popular during the 1950s and 1960s due to big-game fishing. Nowadays this beach is known among international surfers for its energetic and large waves. Beginners should use caution when surfing, as the waves can be dangerous if you don't have solid experience in the sport. Many non-surfers will visit Cabo Blanco for the famous "Peruvian pipeline" as well, as it offers a very nice spectacle to watch while drinking a cold beer on the beach.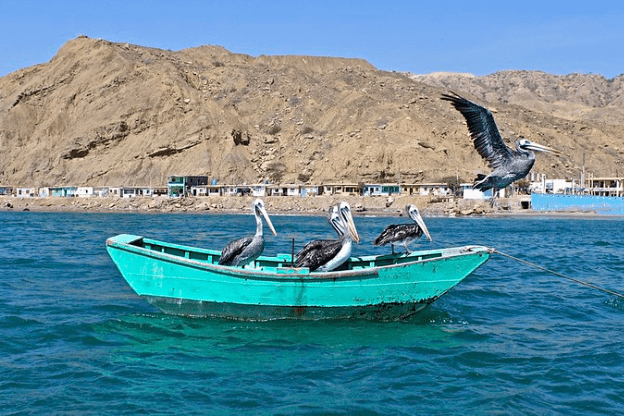 9. Los Organos: Quaint and quiet
Beautiful, calm, hot and dreamy—it may sound like your ideal partner, but its how we'd describe this little beach town. Los Organos is the ideal place to get away from the crowd and closer to nature. Though it's a quick mototaxi ride from Mancora, the sleepy seaside town is not (yet) overrun with tourists. When you've had your fill of fresh seafood and lazing in the sun, check out local marine life. Sustainable companies such as Pacifico Adventures offer whale watching tours and other sea creature expeditions.
10. Punta Sal: Paradise in Tumbes
Situated in the north of Peru, in the region of Tumbes, Punta Sal is often referred to as one of the country's most beautiful beaches. White sand, lush palms, blue skies and warm calm water are what to expect from this beach. Looking for a romantic getaway? Things really heat up when it comes to the sea water in Punta Sal, which remains around 24 degrees Celsius for most of the year thanks to its proximity to the equator.
As this beach is the longest on the northern part of the coast, finding an accommodation that suits you should not be a problem since there is a large number of offers.
11. Pimentel: Sand for days
Much like Huanchaco, this beach shows off its strong fishing history by the steady use of traditional reed boats, caballitos de totora. Local fisherman standing upon these time-tested vessels haul in fish and red crab, sure to be served in any of the restaurants lining this small coastal town. Pimentel is a district of Chiclayo, and its namesake beach is the main beach resort in the Lambayeque region. The breadth of the beach is impressive and allows for visitors and locals alike to partake in beach soccer or take long walks without bumping into one another. Just 15 minutes from the Chiclayo, this is an excellent way to end the day after visiting the Royal Tombs of Sipán Museum.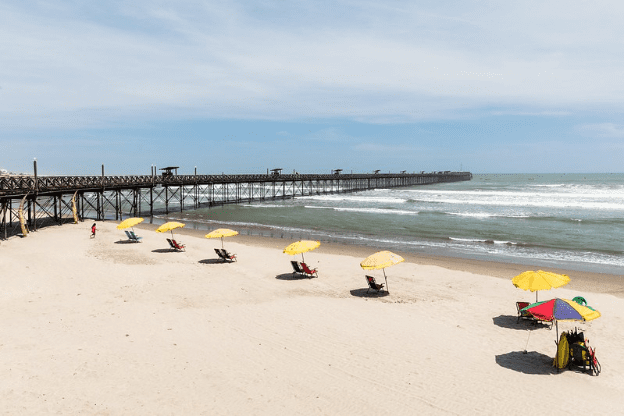 Cover photo of Huanchaco: Marco Milon/Flickr
This article has been updated from its original form, published on December 12, 2018.